Yesterday I took the kid up to the outlets in Kittery Maine..she needed summer sandals and the stride rite outlet is the only place where they seeem to have narros in stock for her skinny little feet. SO on a complete whim I picked her up from school and we headed to maine. It was one of those typical New England days when it cant make up its mind to rain..or be muggy and sunny. we did our little bit of shopping and then I asked her if shed like to head to the beach for some icecream and to stick our toes in the sand. The sun finally decided to make an appearance, and we drove the 15 min up the coast to York beach. For a kid who the first time i took her to a beach refused to let sand (nevermind water) touch her feet..she got over that fear. She chased after a few gulls...and then proceeded to run around me in a circle for about 30 min laughing at the water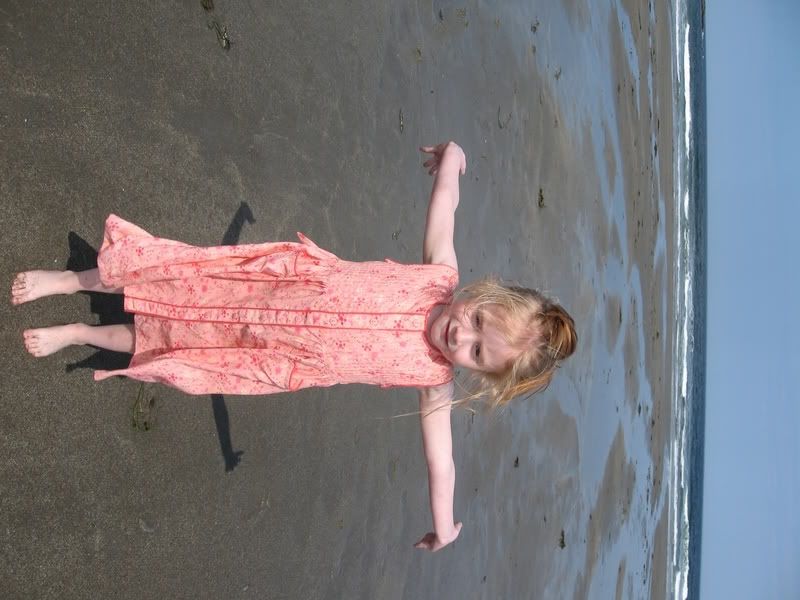 I dont know what it is about the maine coast..the roughness of the rocks and the dark sand and the fact that it was not very crowded at ALL but I so would move there in a heartbeat to see the ocean out my window every morning.
I love this one pic in particular..I can't believe my little girl is getting so big!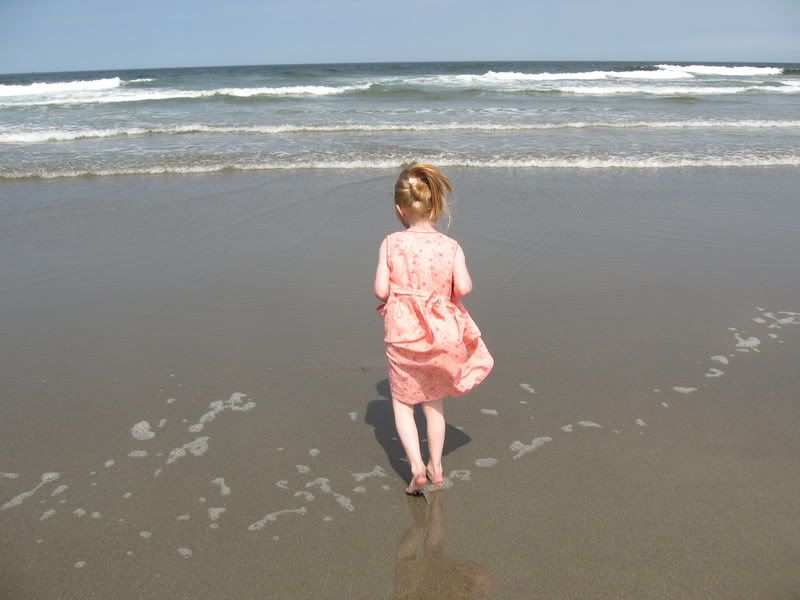 After she fell face first and got covered head to toe in sand..we decided to have a snack before heading home. Luckily I had a change of clothes in the car for her...the pockets of her dress had sand in them :P
We went to the Goldenrod for ice cream and bought some fudge and caramel corn to take home.
It was a perfectly wonderful mommy and daughter day...only not so good thing was the $25 parking ticket I got cause my meter ran out 5 min before I got back to the car. Hey we needed to stop in the little girls room..and when ya gotta go ya gotta go..so it cost us $25 to pee. One thing I am not crazy about is th eMaine police..they are even stricter than New Hampshire...5 min ..empty parking lot..spare me
I promised kid we will return but next time with lunch a blanket and umbrella and more quarters in hand